Guidance for the education sector
Trips without financial protection can and do lead to pupils becoming stranded abroad or schools and/or pupils' families losing significant amounts of money.
We administer the Air Travel Organisers' Licensing (ATOL) scheme which provides financial protection if a travel organiser ceases to trade. It ensures that those abroad on an ATOL-protected trip can complete their trip and return to the UK, and those yet to travel can claim a refund for monies paid to the travel organiser.
The information on this page applies to school trips which include air travel. For trips that do not involve a flight, the Department for Business, Energy and Industrial Strategy has published guidance for businesses to help them comply with The Package Travel and and Linked Travel Arrangements Regulations 2018
When is ATOL protection required?
If you book a flight-inclusive package with a tour operator, the package is required to be ATOL protected by EU and UK law.
If a school puts together the components of a trip and takes payment from pupils (essentially creating a package holiday for its pupils), it is likely to be exempt from needing to hold an ATOL itself.
This is because the EU directive on package travel and linked travel arrangements (EU Directive 2015/2302) excludes from its scope of protection trips that are offered or facilitated on an occasional or not-for-profit basis and only to a limited group of travellers.
If a school can satisfy these conditions, it can organise and sell its own trips to its pupils without ATOL protection. Nevertheless, it will will need to consider the risks in doing so and take our appropriate insurance policies etc.
We recommend that schools book flight-inclusive trips through an ATOL holder so that pupils are protected by the ATOL scheme.
How can I check that the travel company is an ATOL holder?
It is important that you check the ATOL status of your tour operator, as you could be caught out by businesses claiming to provide protection when in fact they do not, whether erroneously or fraudulently. Before arranging and booking your trip, you should check whether the tour operator holds an ATOL.
Schools and pupils' families are at risk of losing money when booking with businesses claiming to hold an ATOL or offering ATOL protection when they do not. We provide some advice to help reduce the risk of this happening.
Check your ATOL Certificate
As soon as you make a payment for your ATOL-protected trip, whether it's a deposit or balance payment, you will receive an ATOL Certificate. This gives details of the trip (what's protected, who's protected, who's providing the protection and what you should do if the firm ceases to trade while you are away on your trip. ATOL Certificates look like this: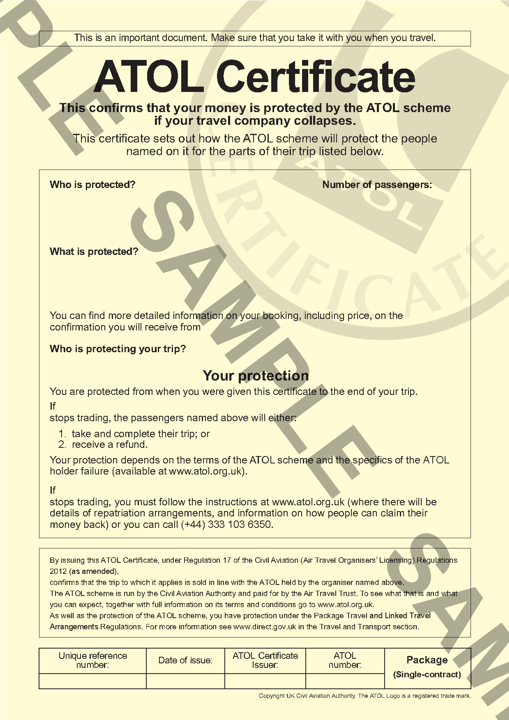 Legislative background
The Civil Aviation (Air Travel Organisers' Licensing) Regulations 2012, as amended, sets out who may advertise and sell flight accommodation in the UK and provides for the CAA to administer the ATOL scheme.
Further information about the ATOL scheme is available on our website.